36 Easy DIY Wall Art Ideas to Make Your Home More Stylish
DIY wall art is one of the most fun and inexpensive ways to decorate your home. That's why we've compiled a list of 36 amazing DIY wall art ideas for you to try! This list has projects for all styles and skill levels, so you are sure to find one you can't wait to try.
36 Make-Your-Own Wall Art Projects

If you are a novice crafter or want a project you can do with your little ones, try one of the simpler DIY wall art ideas like the fired ink or the abstract paintings. Looking for more grown-up DIY wall décor? This list has tons of wall art designs for every room in your house from a washi tape "headboard" to a stylish mirrormade out of paint sticks! If you are an expert at crafting, many of these DIY wall arts, like the cut canvas and woven paper, will be a fun challenge for you.
The list below has DIY wall décor projects for every aesthetic from bright and colorful to rustic to minimalist. A far cry from your grandma's cross-stitch or kids' finger drawings, these gorgeous ideas will blow you away!
1. Easy DIY Giant Confetti Mosaic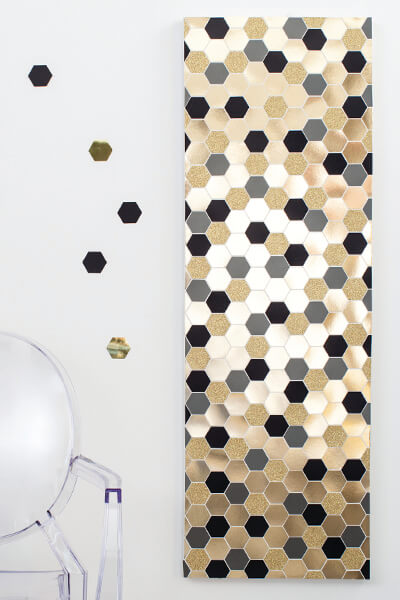 Over recent years, metallic colors and geometric shapes have become two of the most popular elements used in interior design. This project combines both elements to give your walls a sophisticated and glamorous look. Best of all, you need minimal supplies. So grab a stencil press or pair of scissors along with your favorite metallic paper, some adhesive, and any size canvas.
2. Super Simple Fired Ink Art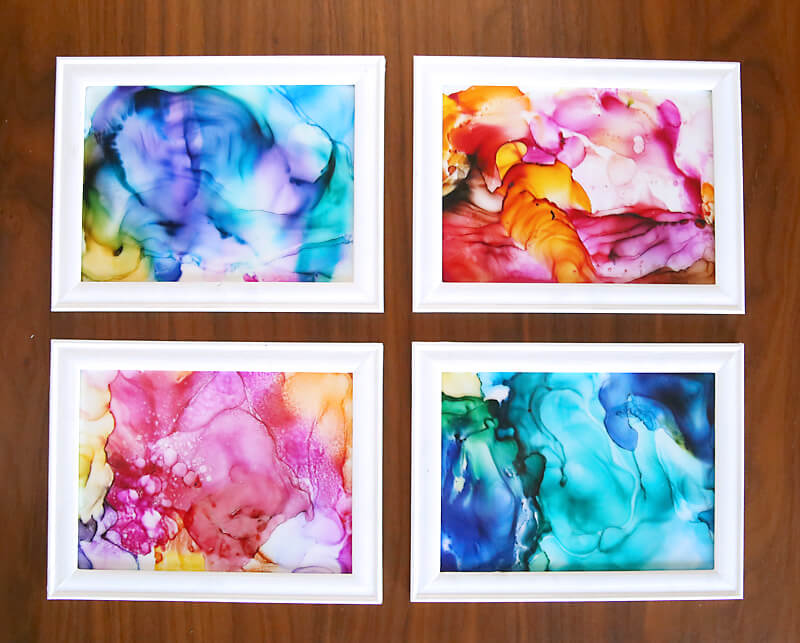 Ink art projects look like complex watercolor paintings so you may be surprised to find out that making ink art is actually quite simple. Alcohol-based ink and rubbing alcohol is poured onto glass and magically transform into a beautiful collage of organic lines and shapes. Make this project on an inexpensive frame, and you'll have an instant piece of wall art.
3. DIY Floral Monogram Wall Art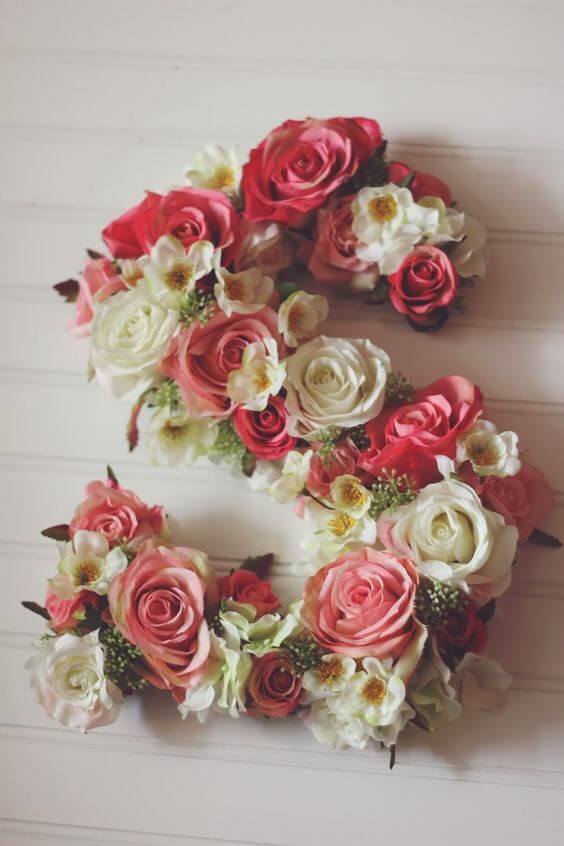 You can easily thrift an old frame for less than a dollar for this elegant project. Monogrammed pieces make great gifts and add a touch of personalization to your wall space. Simply cut any letter you'd like from an old cereal box or piece of cardboard and use hot glue to attach the flowers.
4. DIY Cut Canvas Wall Art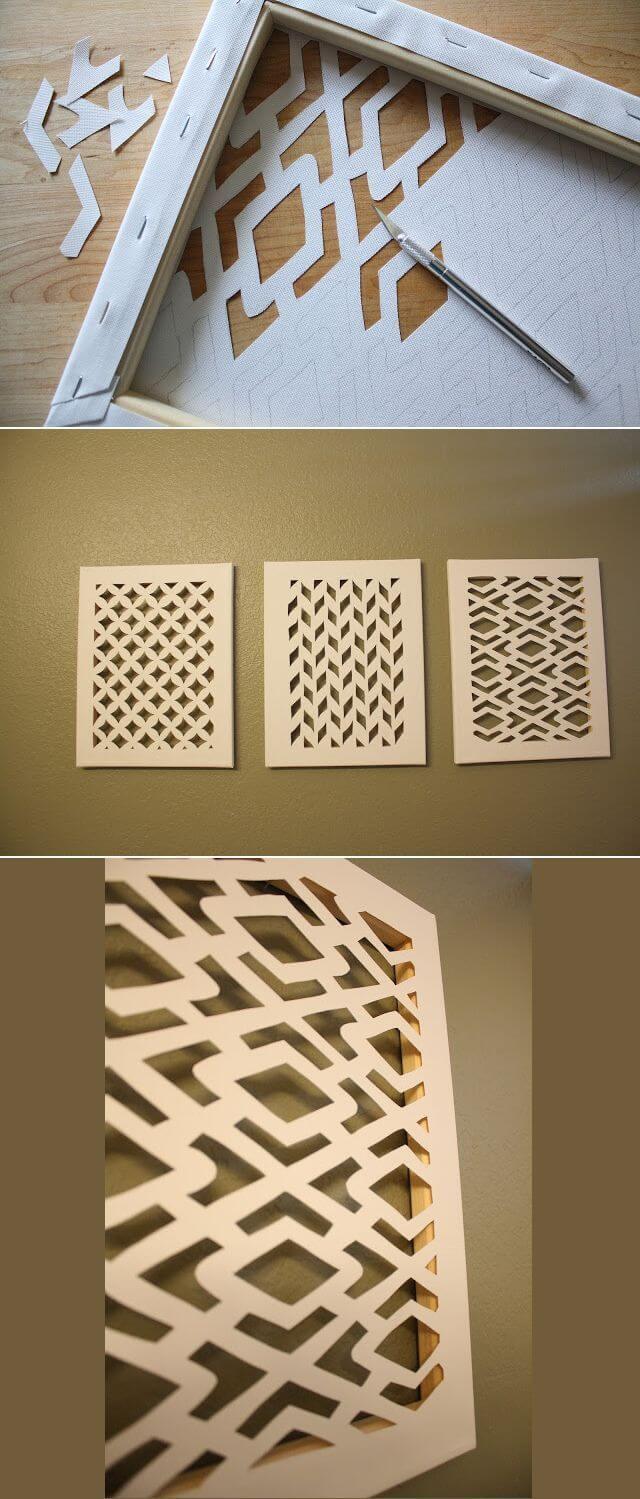 You don't need access to laser wood cutting machinery to achieve the look of an intricate woodcut panel. Instead, stencil the outline of a pattern on paint canvas and carve it out with a carving tool. Finish the piece by painting it the color of your liking. These mock-panels pair excellently in multiples.
5. Love Looped Yarn Art Tutorial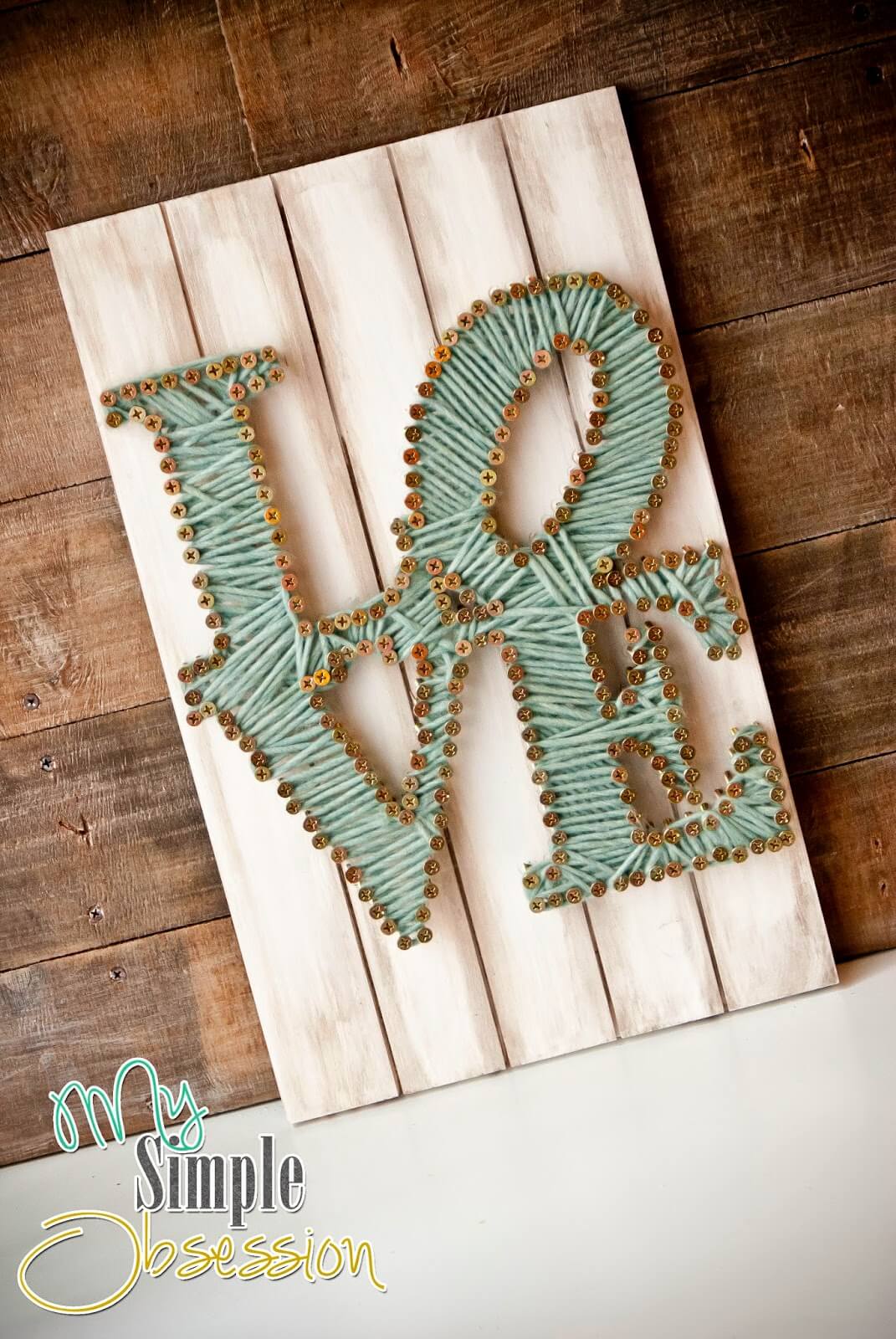 The materials for this rustic piece are inexpensive and easy to come by. All you need are a few wooden boards, some nails, and yarn. This piece adds charm to any room and is great for family rooms, nurseries, and bedrooms. Projects like these are some of the best wall decor ideas because of the successful combination of textile and wood.
6. Easy Popsicle Stick Shadow Box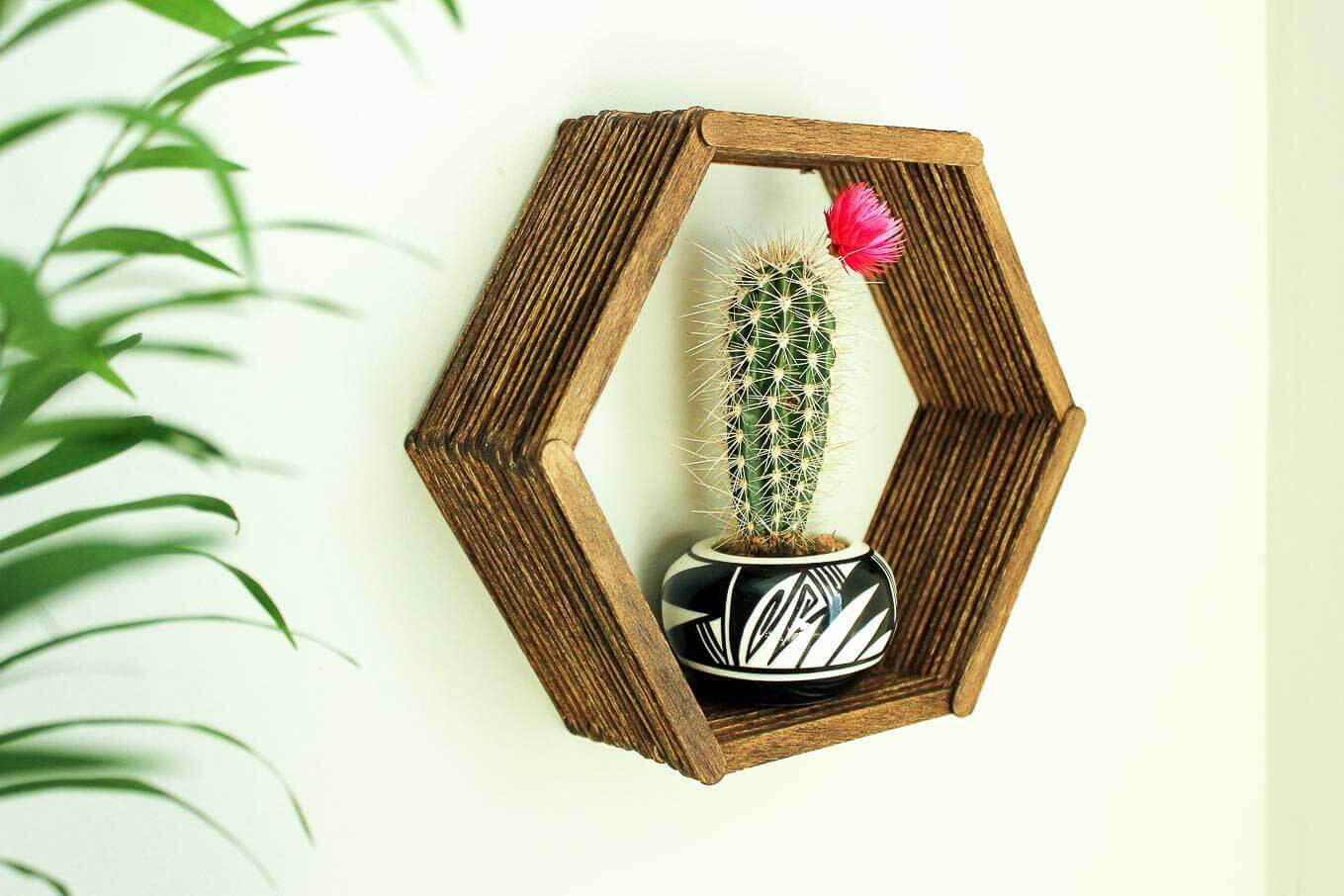 At first glance, no one will even notice that this piece is built out of Popsicle sticks. It takes a mundane material and converts into something magical! You can paint and layer Popsicle sticks into any shapes to create this nifty accent shelf. This project makes a great summer project, giving you a reason to stock your fridge with icy treats!
7. DIY Framed Clothesline Photo Display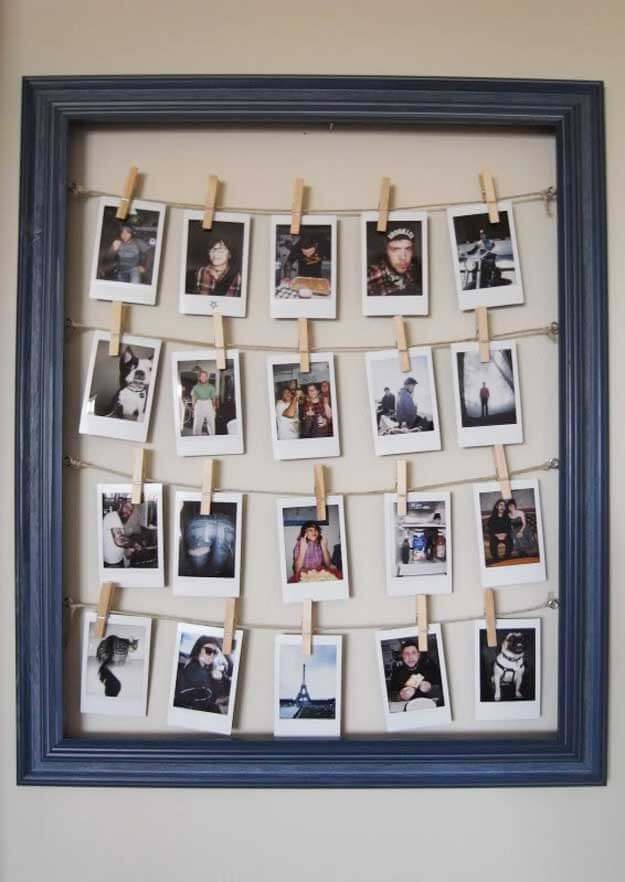 This project is one of the best wall decor ideas for tough to frame photographs like Polaroid photos. You can use any old frame by adding paint and securing wire or string in rows. You can even spice up your close pins with decorative tape or paint. This piece is a nice way to bring life to your walls.
8. Rustic Cutout Wood Star Art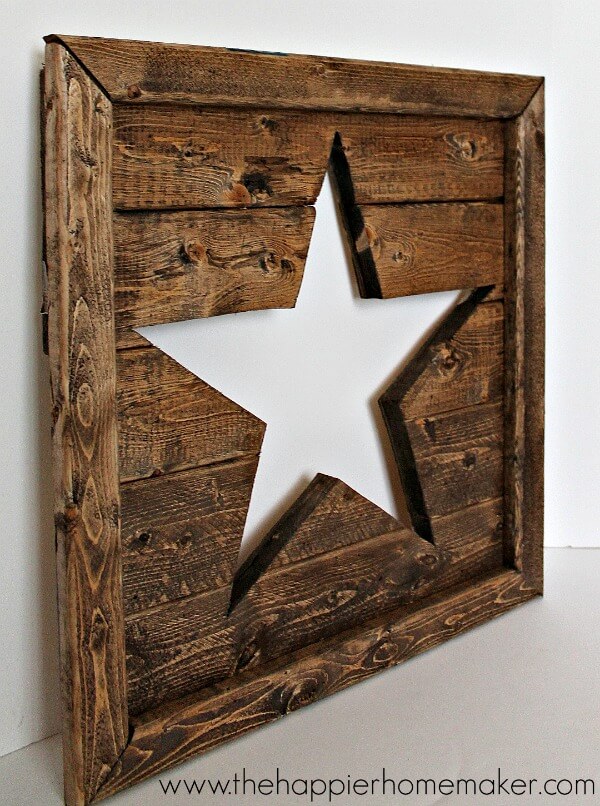 This piece will add rustic charm to your walls and is a great entryway decoration. You will need a miter saw to complete this project, but otherwise the materials are pretty basic. It's an especially great project if you have access to palettes that need recycling or barn wood that needs repurposing.
9. Simple Framed Twig Homemade Wall Art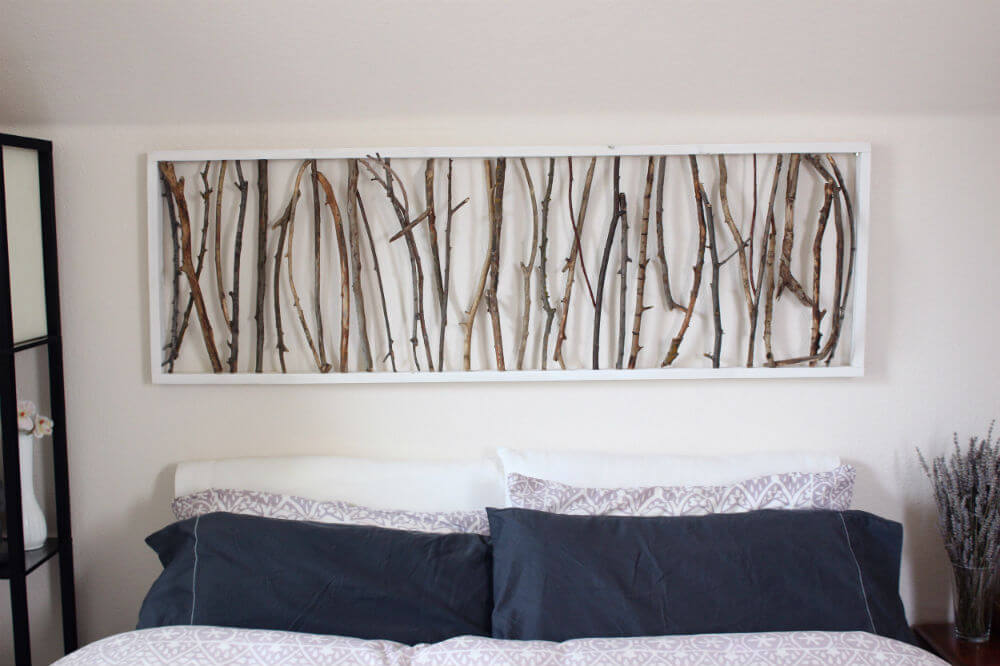 If you're a nature lover than this piece of wall art is perfect for your home. It brings the outdoors inside! Collet your favorite fallen branches on your next walk and pick up some lumber to make this gorgeous framed twig project. It accents bedroom and living room walls especially well since it is a major focal point.
10. DIY "Floating" Flowers and Leaves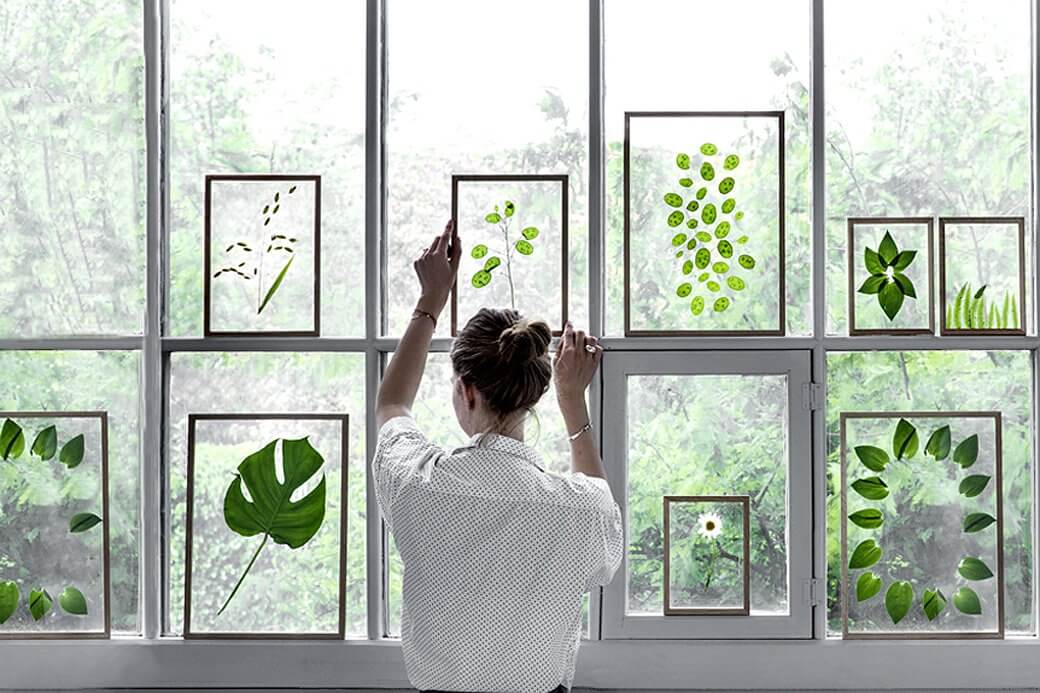 This project is a lovely accent for walls and windows. The simplicity of these pieces works well in any room, especially well lit spaces. The best part about this project is the colors and textures that the flowers and leaves contribute to your walls. This is one of the best spring and summertime wall decors ideas because you can collect a variety of materials from nature.
11. Easy DIY Geometric Wall Art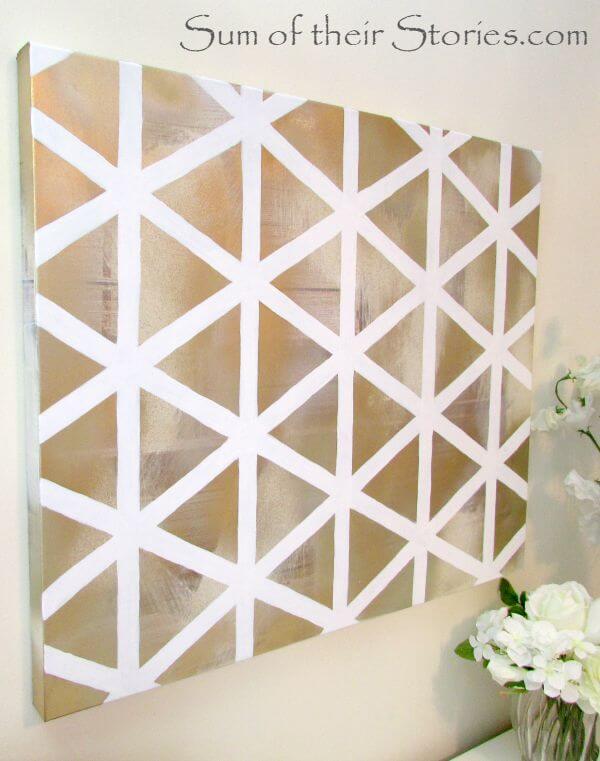 This next piece of wall art pairs well with modern, contemporary, and transitional interiors. The geometric shapes and clean lines give it a professional appearance, but can easily be made by amateur artists. You can go with this sophisticated metallic color scheme or choose colors of your own.
12. Inspirational Message Rustic Board Art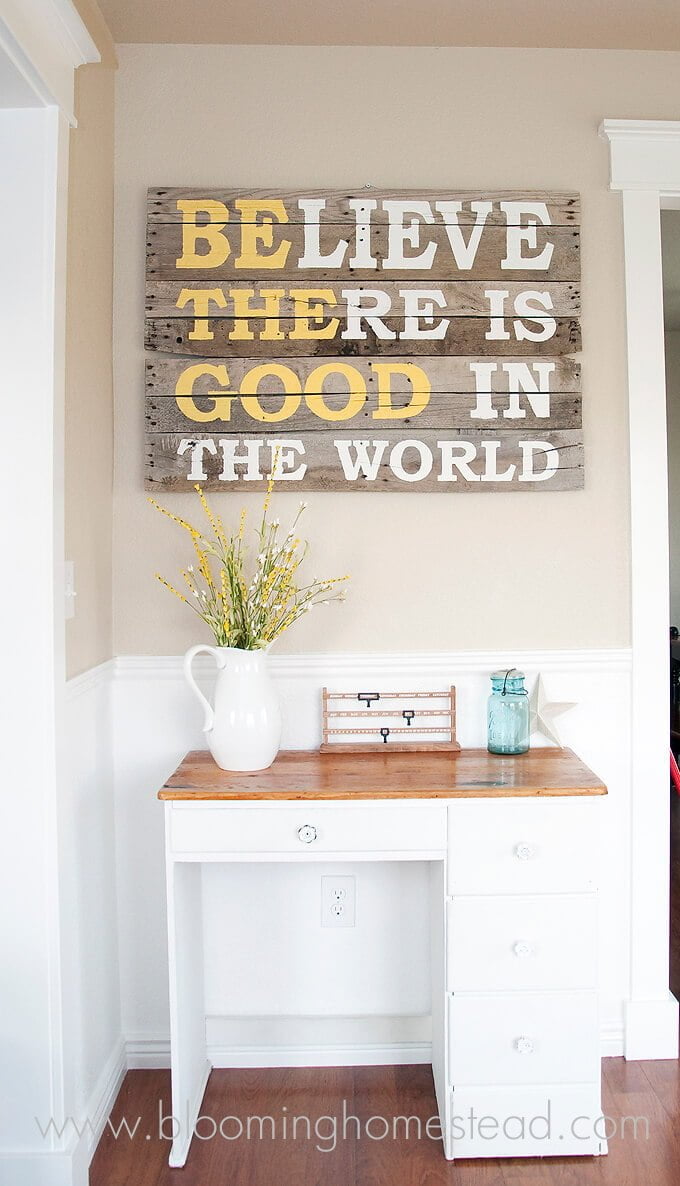 Who doesn't benefit from an inspirational message? This piece is great for family homes because it creates an uplifting environment. It works well as a focal point for living or dining rooms. The repurposed wood creates a down-to-earth and rustic look that goes well with traditional, contemporary, and farmhouse interiors.
13. Pretty Watercolor Collage Art Project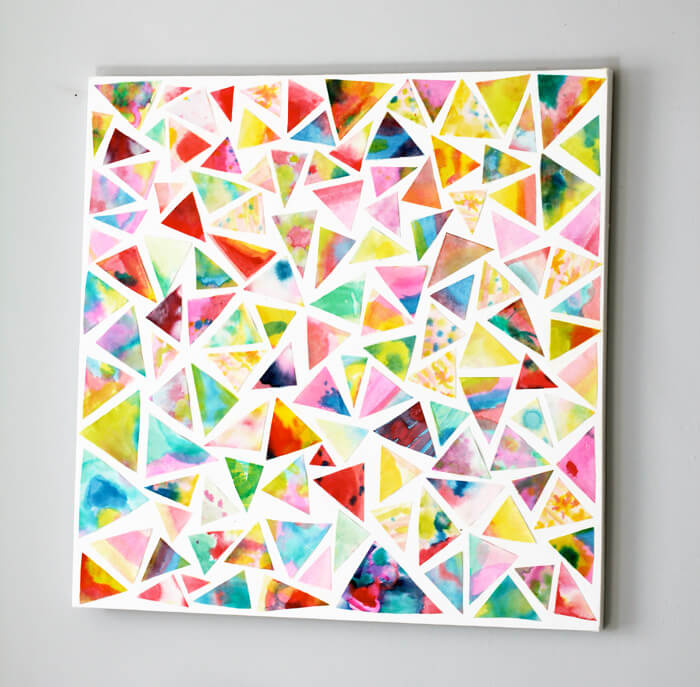 Making watercolor paper is a fun activity all on its own and now you'll have something to do with all the pieces you create. This beautiful watercolor mosaic is one of our favorite watercolor walls decor ideas. This piece adds color to walls and accents solid-colored furniture and decor successfully.
14. Colorful Wood Arrows DIY Wall Art Décor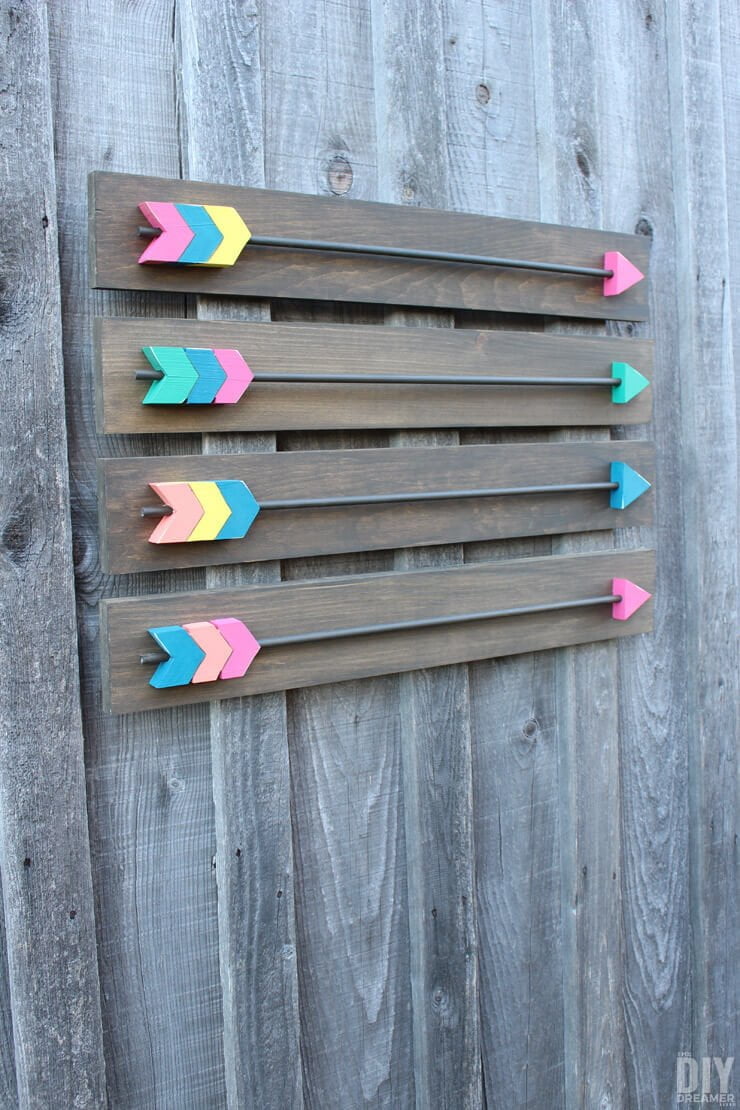 These arrows are definitely one of the cutest wood wall decor ideas trending right now! These arrows look great in a variety of spaces and can easily adapt to any style just by switching up the color palette. If you want to freshen up your walls then this is the perfect project for you.
15. DIY Magazine Collage Bear Art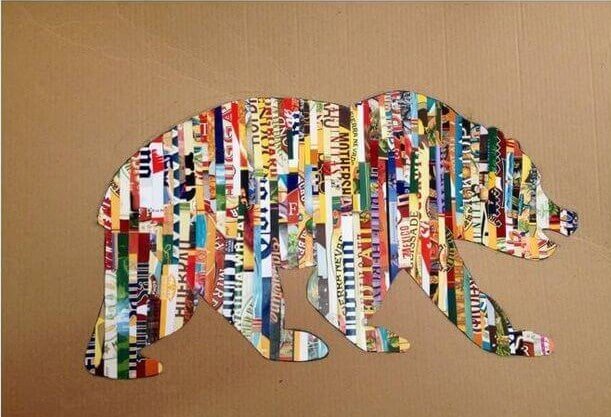 This is one of the most fun wall decor ideas to make. Best of all, you probably already have all the materials right at your fingertips. This piece of wall art is awesome because it uses recycled materials to make something amazing. The colorful magazine paper strips are sure to add interest and excitement to your walls!
16. DIY Bamboo Skewer Wall Decor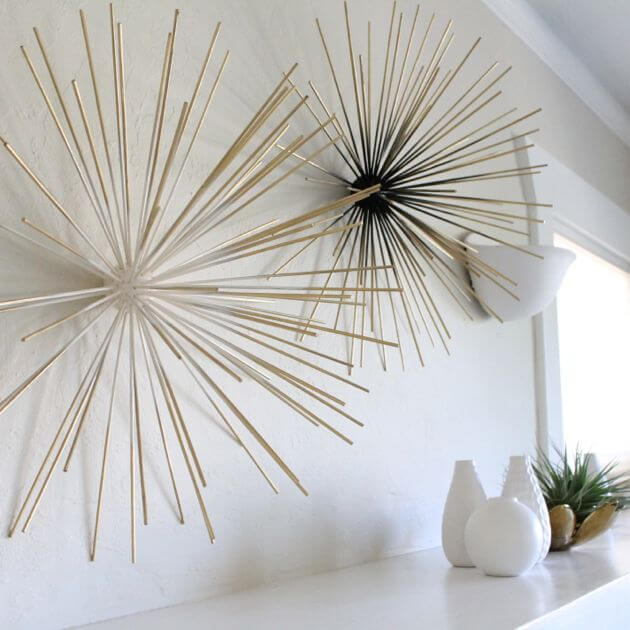 If you love the mid-century modern or retro interior design look then this is one of the best wall decor ideas for you. These spheres are so easy to make and will really make your walls pop. If your walls appear boring then liven things up with some three-dimensional sculptural art!
17. Woven Paper Wall Art Tutorial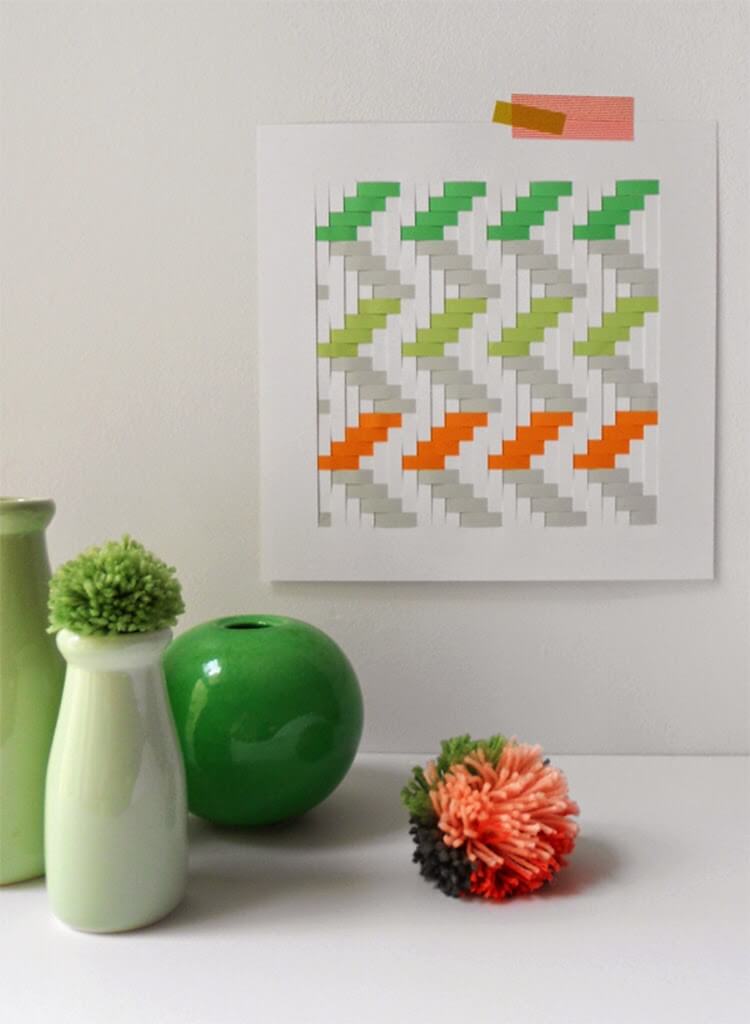 Weaving is one of the best DIY trends this year because woven artwork is timeless. This piece captures the beauty of traditional woven baskets and converts it into a piece of artwork for your walls. This piece is a great conversation starter and your friends will surely be impressed when they find out its homemade!
18. Super Simple DIY Abstract Paintings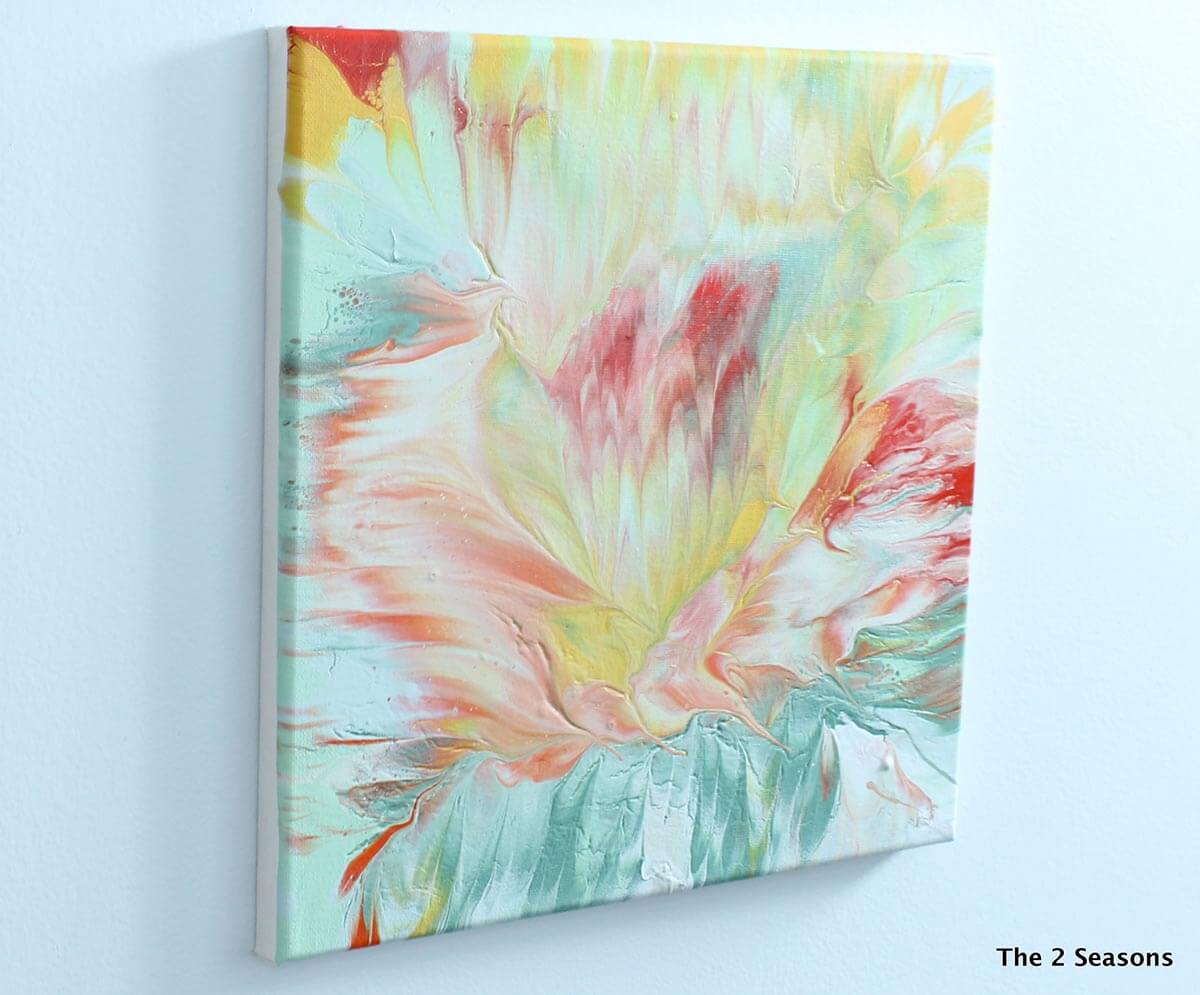 Marbleized wall decor ideas are incredibly popular right now among interior design trends and you can easily see why! This beautiful piece effortlessly adds a mix of color to your walls. The textures add a nice contrast to flat white walls and the colors liven up a room effortlessly.
19. DIY Backlit Canvas Wall Art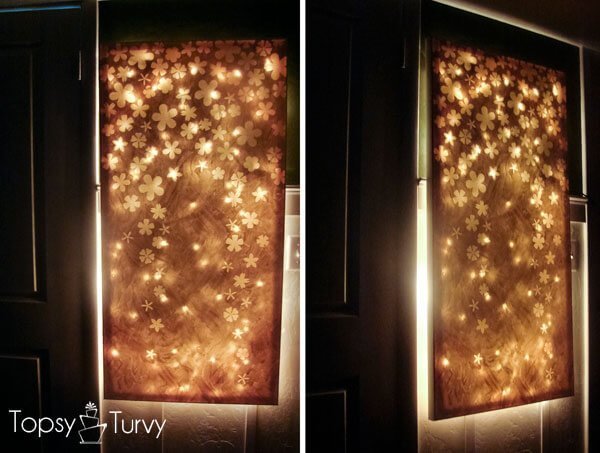 This blacklight canvas is a beautiful piece for a child or teen bedroom. It could also act as a nightlight for your hallway. This is one of the wall decors ideas that have a very Scandinavian appearance. Scandinavian decor is very minimalist, so instead lighting is used in a decorative form.
20. Rustic Love Wood and Twine Art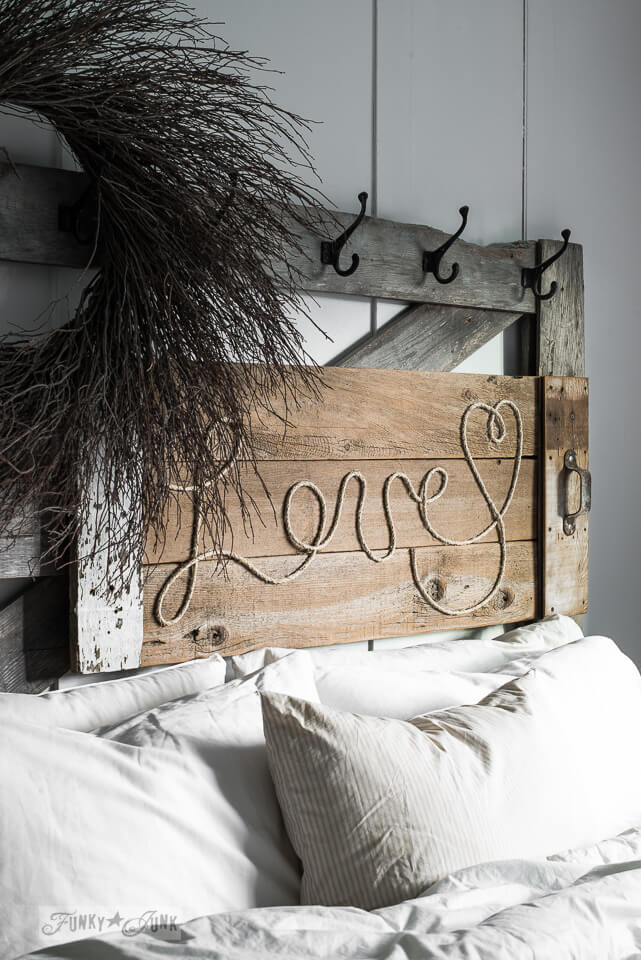 This is one of the rustic wall decor ideas that will show everyone in your home some love. The piece is more than just for decoration, too. It can be used as a coatrack or headboard. A versatile piece like this is great because even if you move you'll still have a spot available for it on your walls.
21. DIY Paint Stick Sunburst Mirror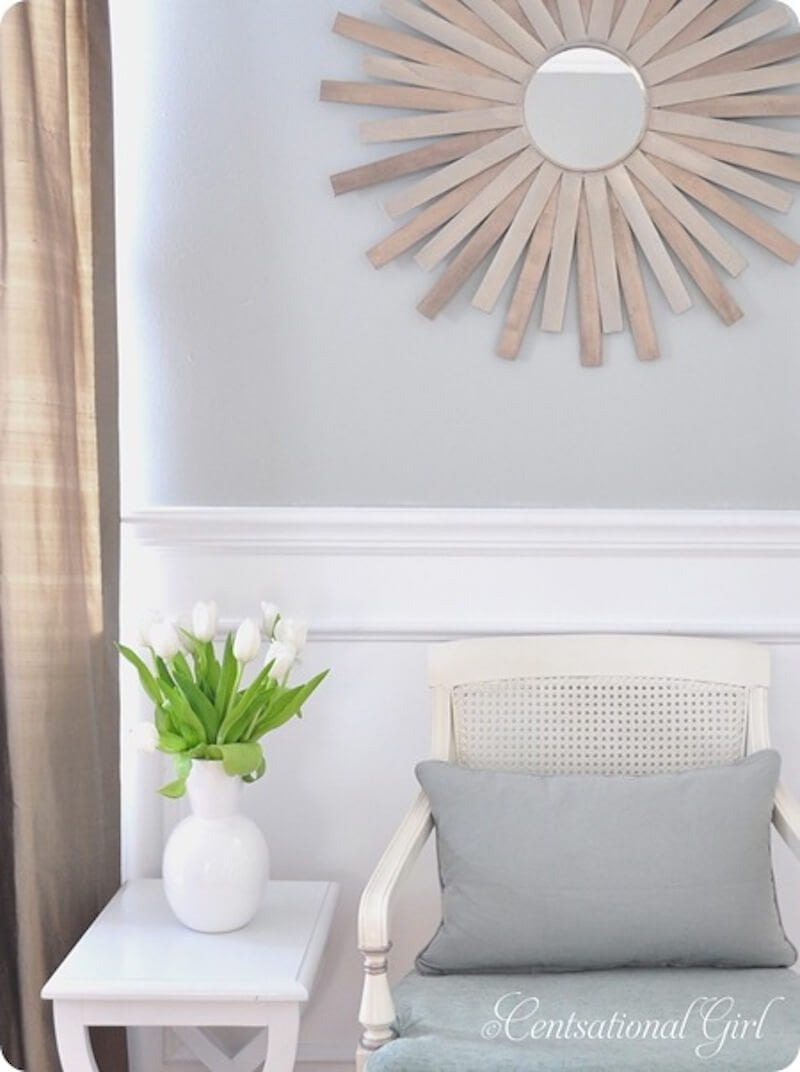 This is another fabulous mid-century modern look for anyone who loves retro decor ideas. The soft rose gold and metallic pink palette is very popular in interior design right now and will make your walls look very in-style. This piece diverges from simple boring mirrors and adds a point of interest to the room.
22. Colorful Citrus Wood Paintings Trio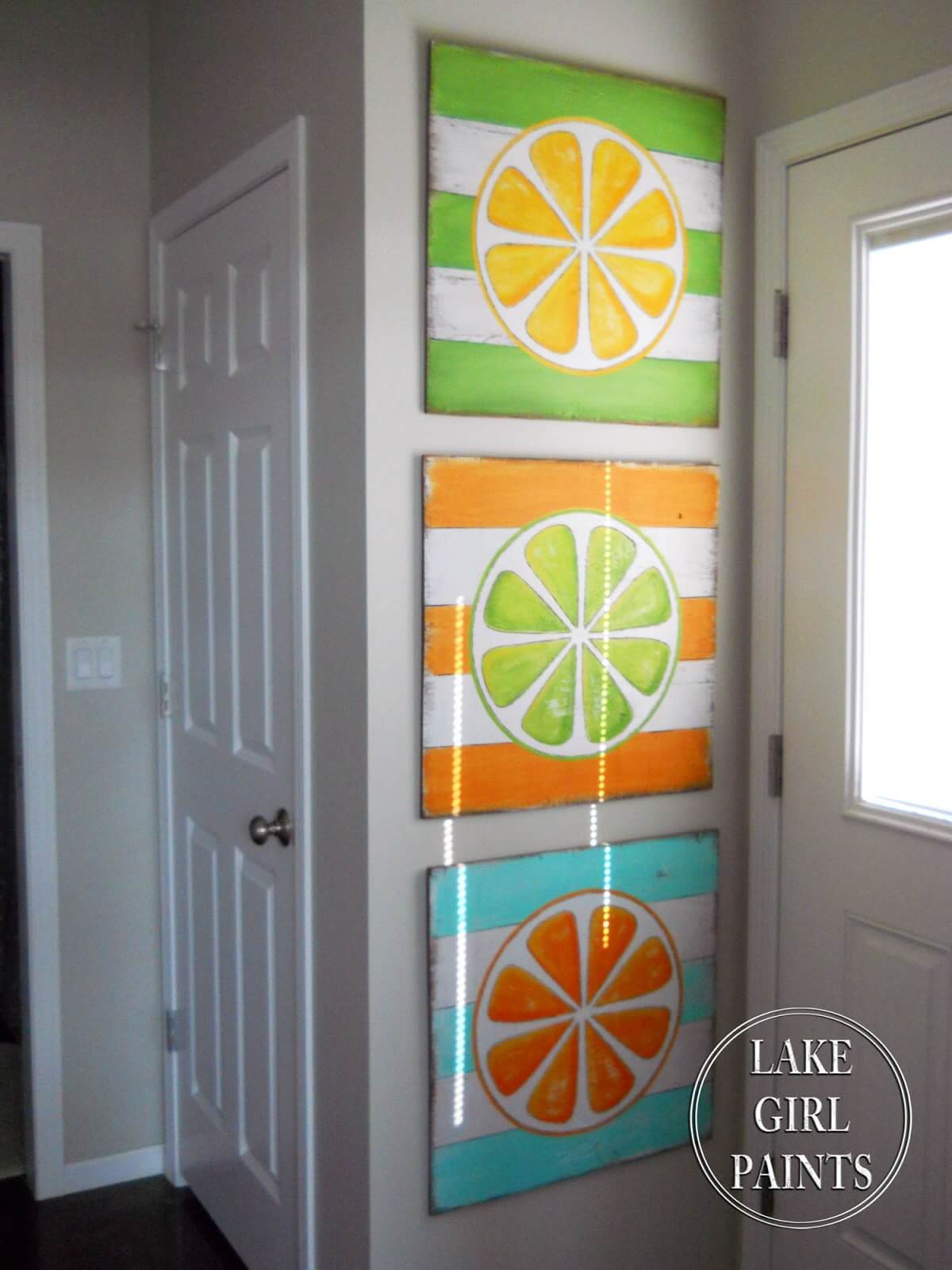 These are among the most splendid kitchen and dining room wall decor ideas. This look is great for filling a small wall or adding a burst of color to a larger room. The summertime feel created by the aesthetic is especially great for homes built in mild winter climates. You can personalize the colors to match your current decor.
23. Simple Canvas Mounted Flowers Tutorial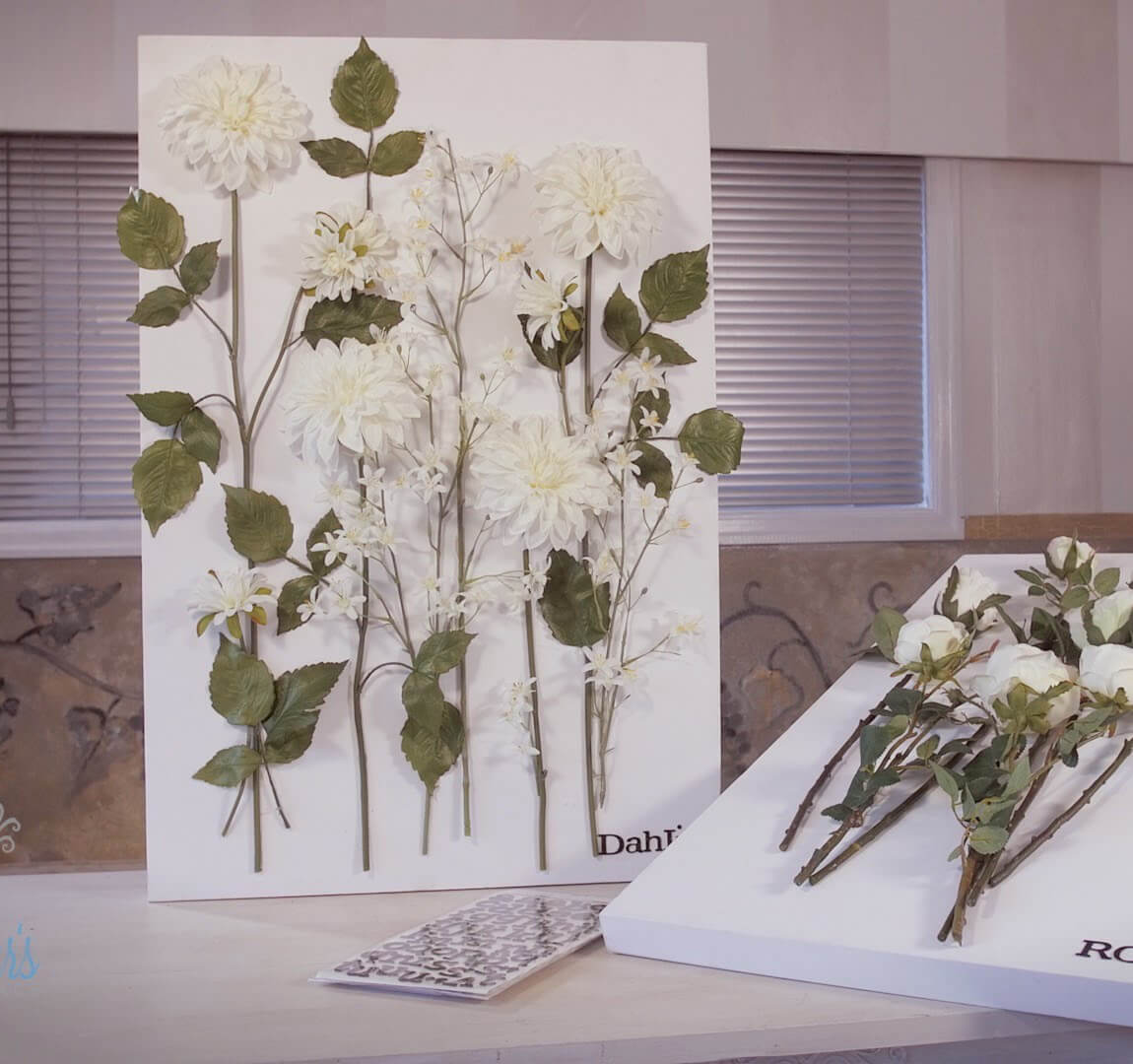 This floral piece is one of the most delightful nature wall decor ideas because it brings the outdoors inside year-round! This piece looks especially fabulous on walls when created in multiples. So grab a canvas and your favorite fake or dried flowers to get started on this lovely piece!
24. Black and White Striped DIY Wall Art Idea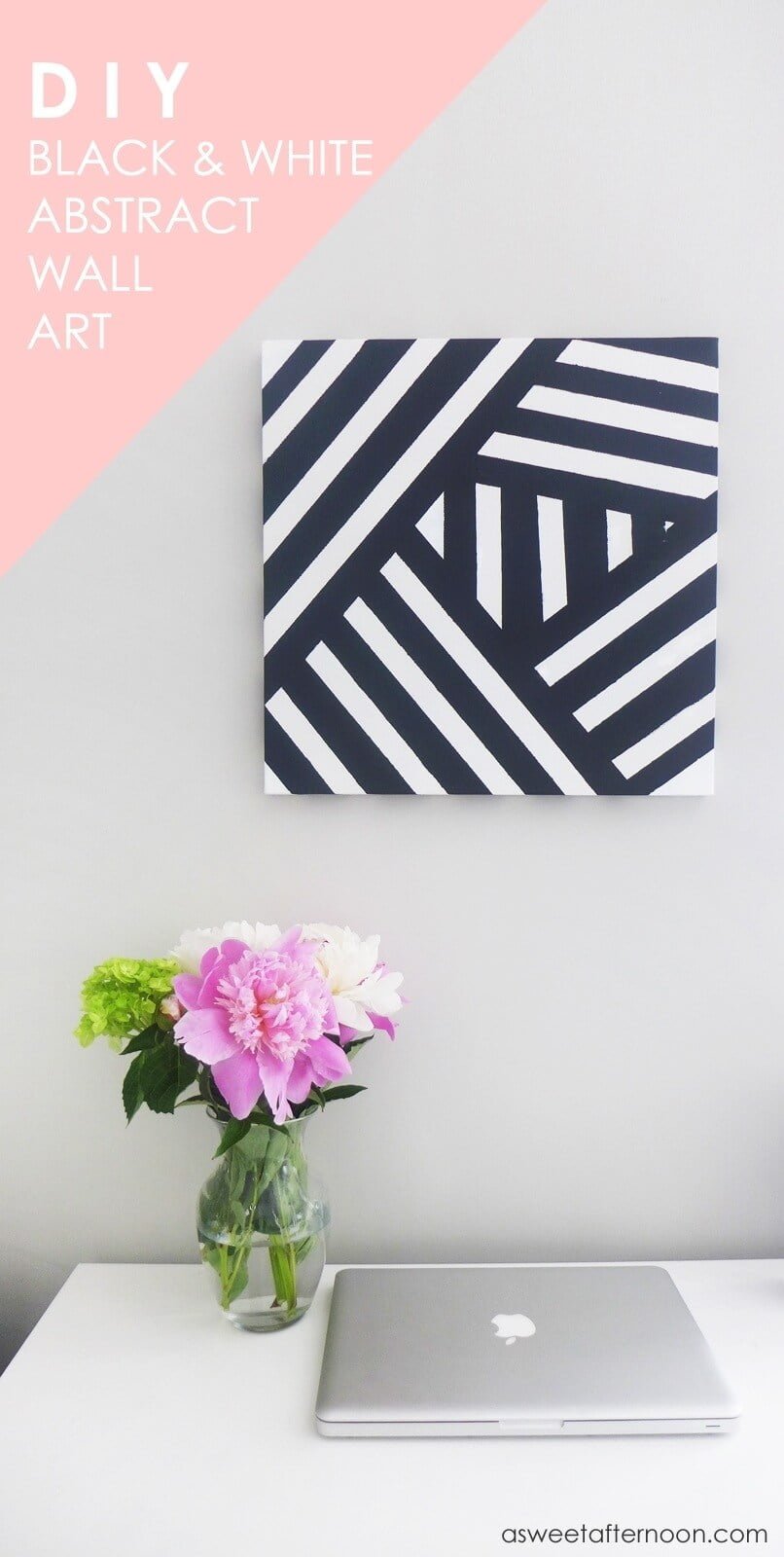 If you love art deco wall decor ideas or modern art then this is the perfect project for you. It's a project that's easy to make that adds a bold statement to your walls. To increase this boldness all you have to do is increase the canvas size. You can add color or stick with the black and white contrast.
25. Easy DIY Paper Dahlia Decorations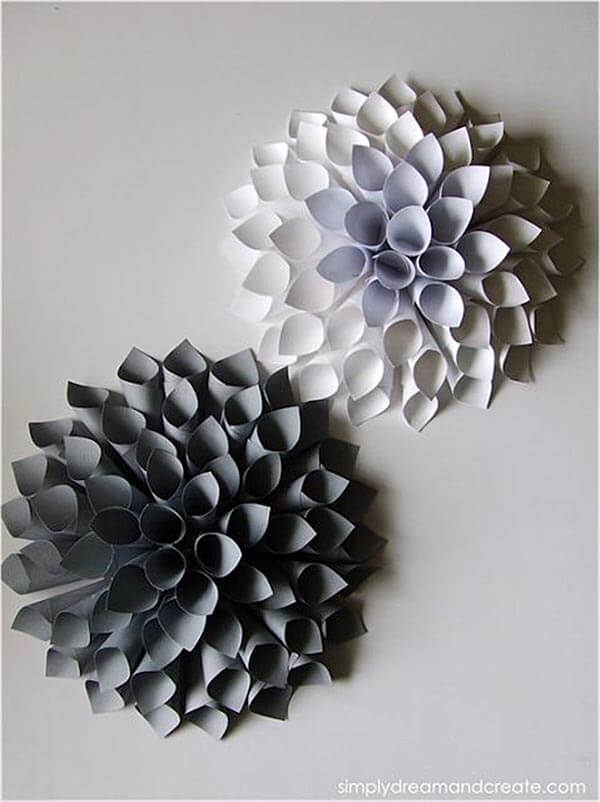 Who doesn't love paper wall decor ideas? The elegant floral bursts are a delicate decoration for any wall. This idea translates especially well as an accent piece in nurseries as well as in child, teen, or adult bedrooms. These gray tones are cool and calm, but you could choose a different color to create the mood of your choice.
26. Decoupage Animal Photos on Painted Canvas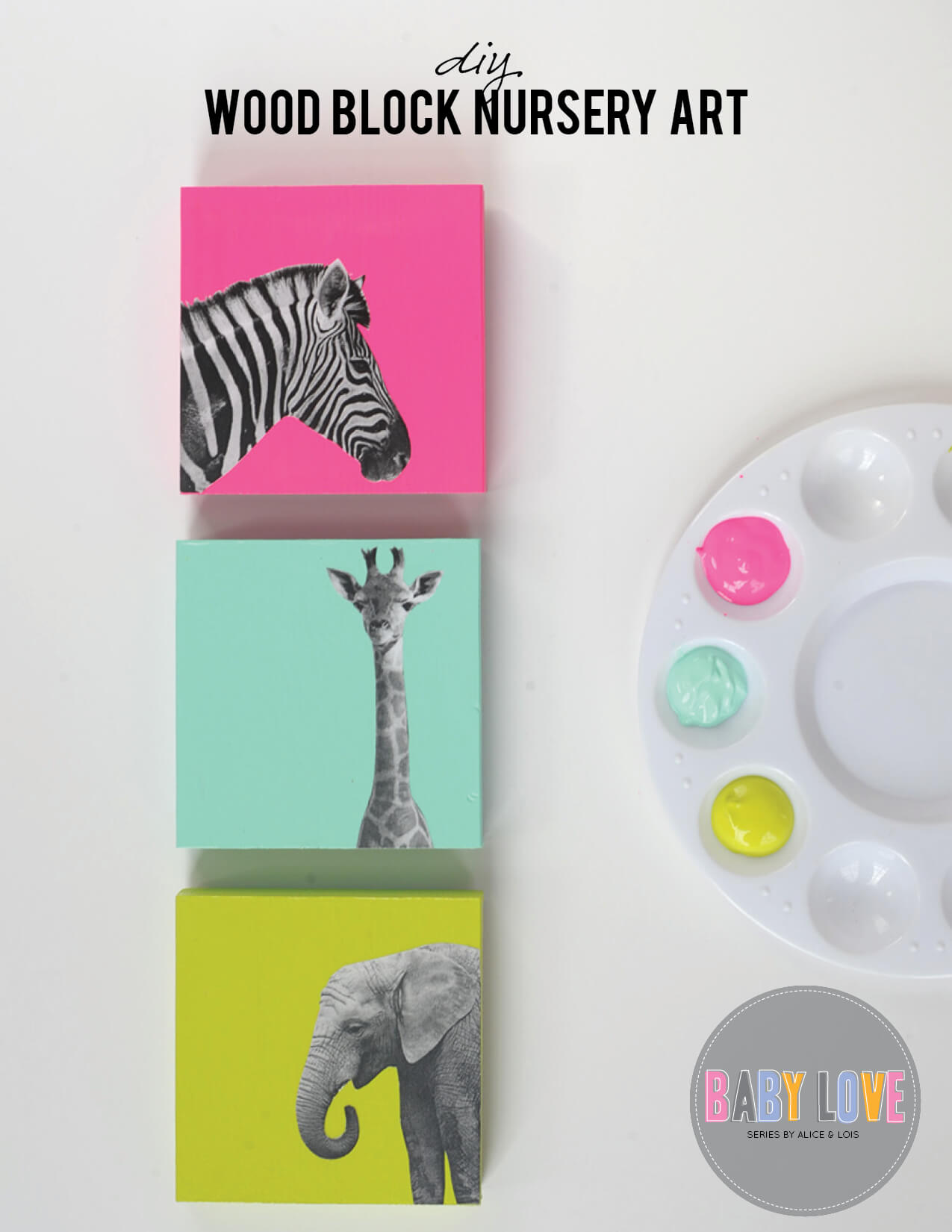 This is one of the best baby wall decor ideas. If you're expecting an addition to your family and decorating your baby nursery then this idea is for you! These pieces also make fabulous baby shower gifts and can easily be made with a variety of animals and to have a gender-neutral appearance.
27. DIY Lace Doily Flowers Art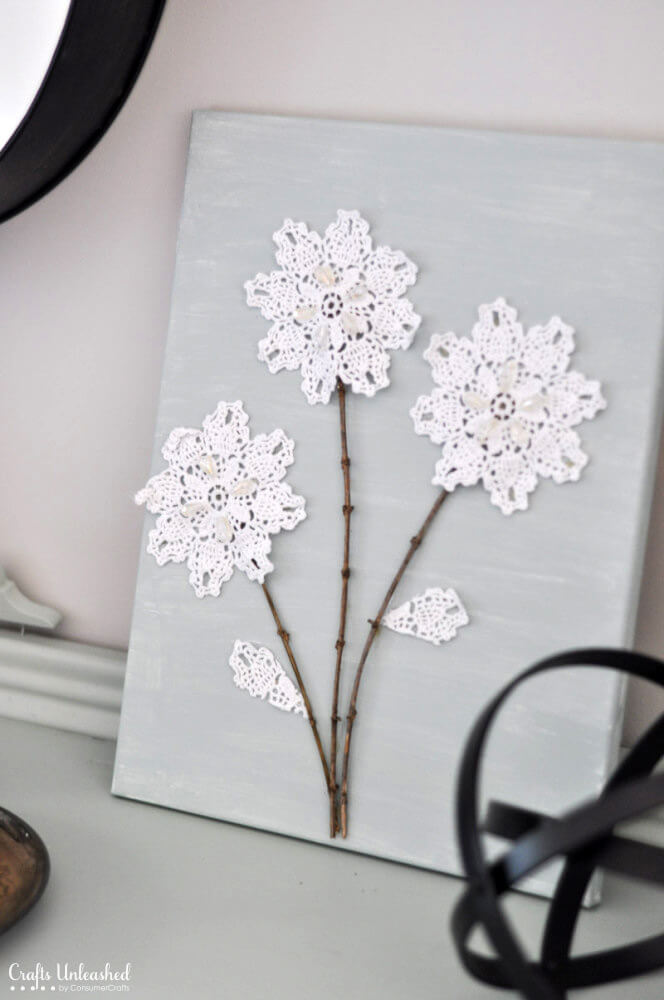 If you love shabby chic wall decor ideas then you'll love this next project. The soft lace doily and pastel canvas combine to create a charming country vibe. This is a beautiful accent piece for the walls of any room and looks great hung in multiples. If you create more than one, you can change the design on each canvas slightly to create variety.
28. Washi Tape Skyline Headboard Wall Decoration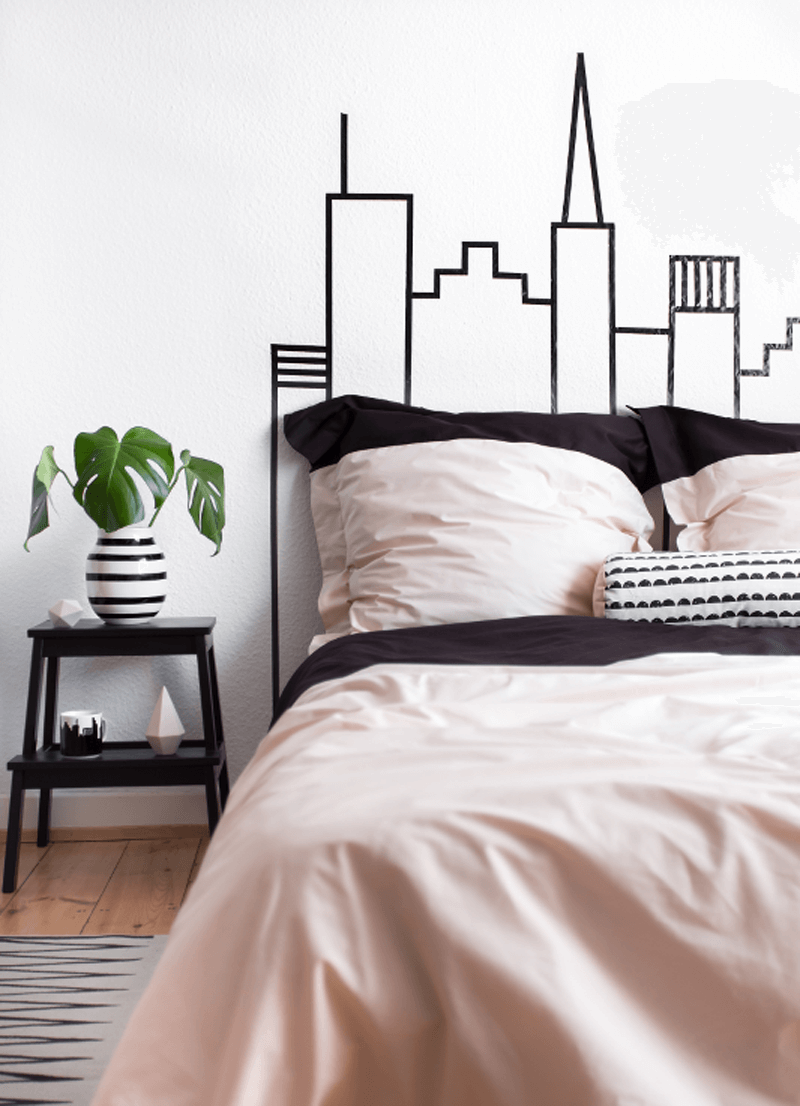 Washi tape is great to have on hand for impromptu DIY projects. This design is great if you dream of escaping to the big city or perhaps you already live in it. The simple lines created by the tape have the appearance of paint lines but aren't permanent, a feature that is ideal for renters.
29. Popsicle Stick Hearts DIY Wall Art Design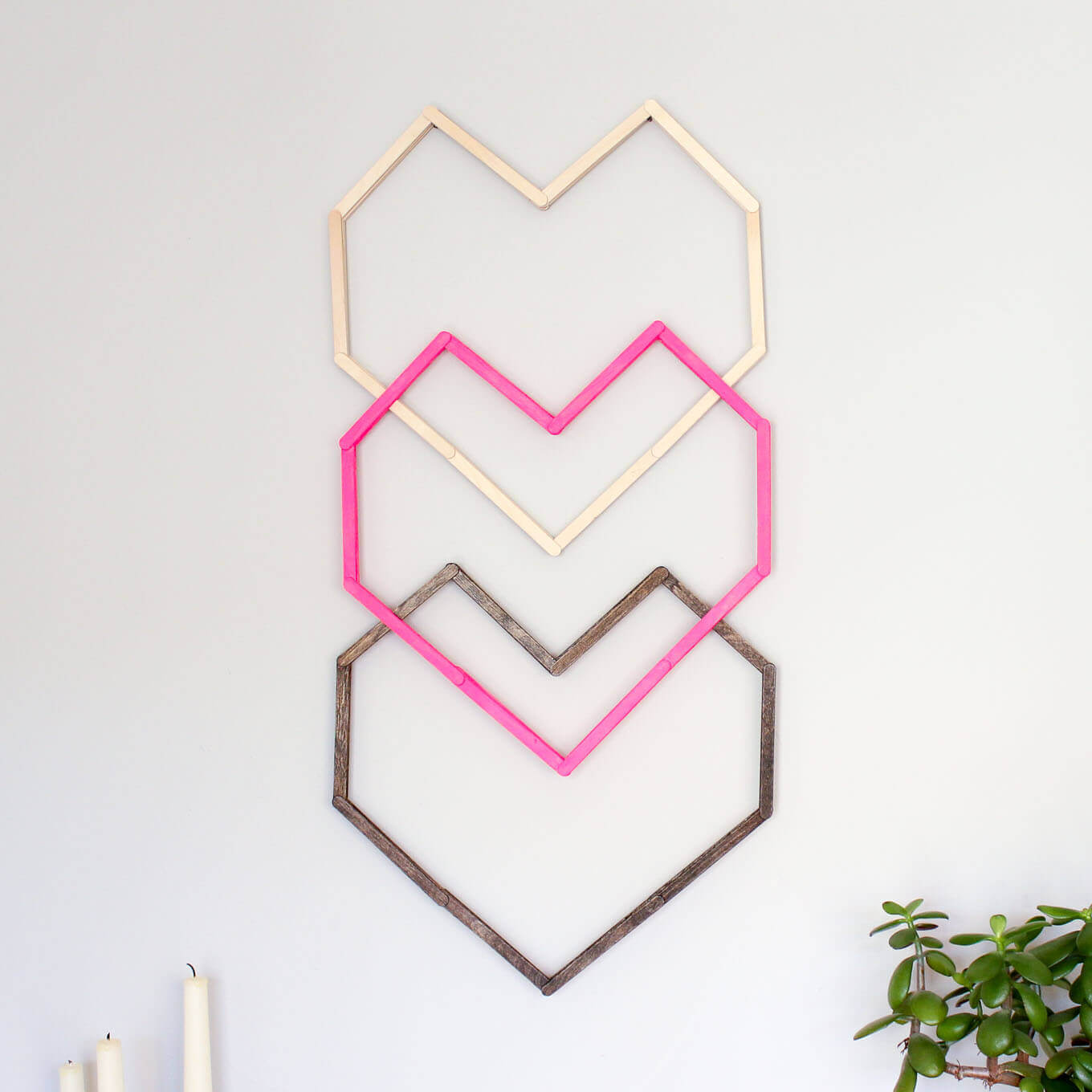 There are so many great Popsicle stick wall decor ideas out there. Popsicle sticks are awesome for DIY wall art projects, because the sticks are indistinguishable until you peer up close. You can style your Popsicle hearts just like this photo or make your own variation by changing up the colors and amount of hearts!
31. Easy Spray Paint Plant Art

Drawing on the natural world for inspiration is a timeless tradition in the art world. This collection of pieces is fabulous because it takes a modern approach to nature-inspired artwork. This is another project that grants you freedom in color choice and variety so you can style it to fit any room.
32. Cut Out Paper Leaf Art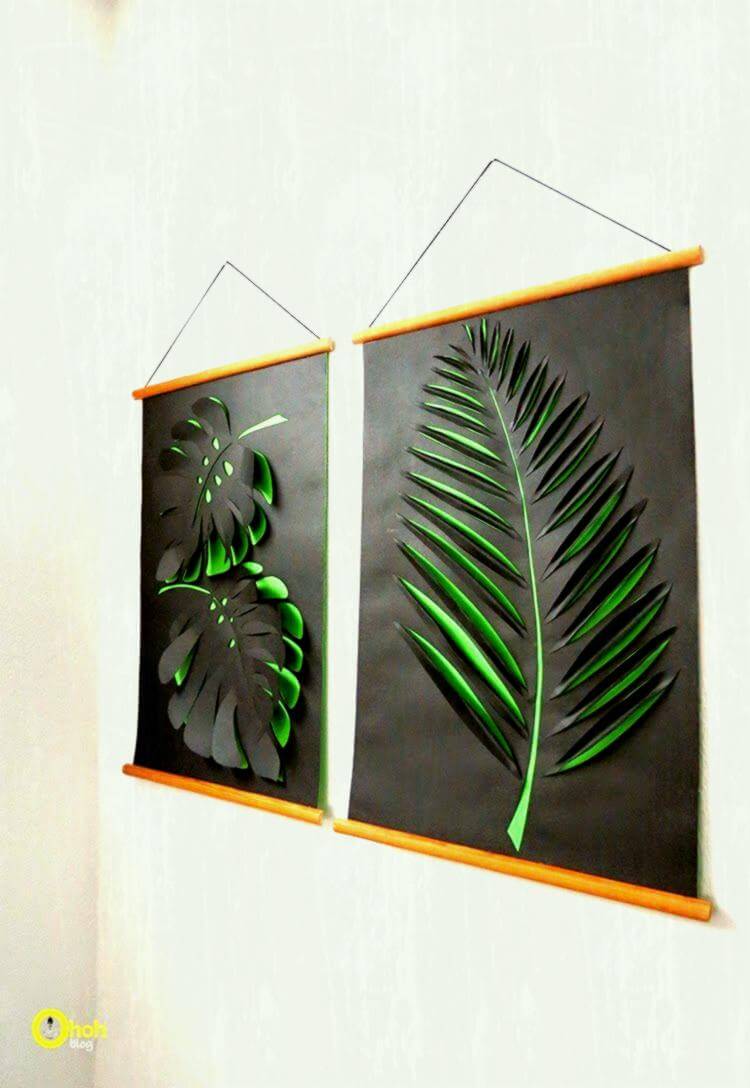 Wall decor ideas that double as optical illusions are almost too much fun to make and view! These cut out leaves appear to be a singular entity until you look close and appreciate the artistry. The combination of layered colored paper and strategic cutting create an intricate and impressive leaf.
33. Washi Tape Geometric Wall Art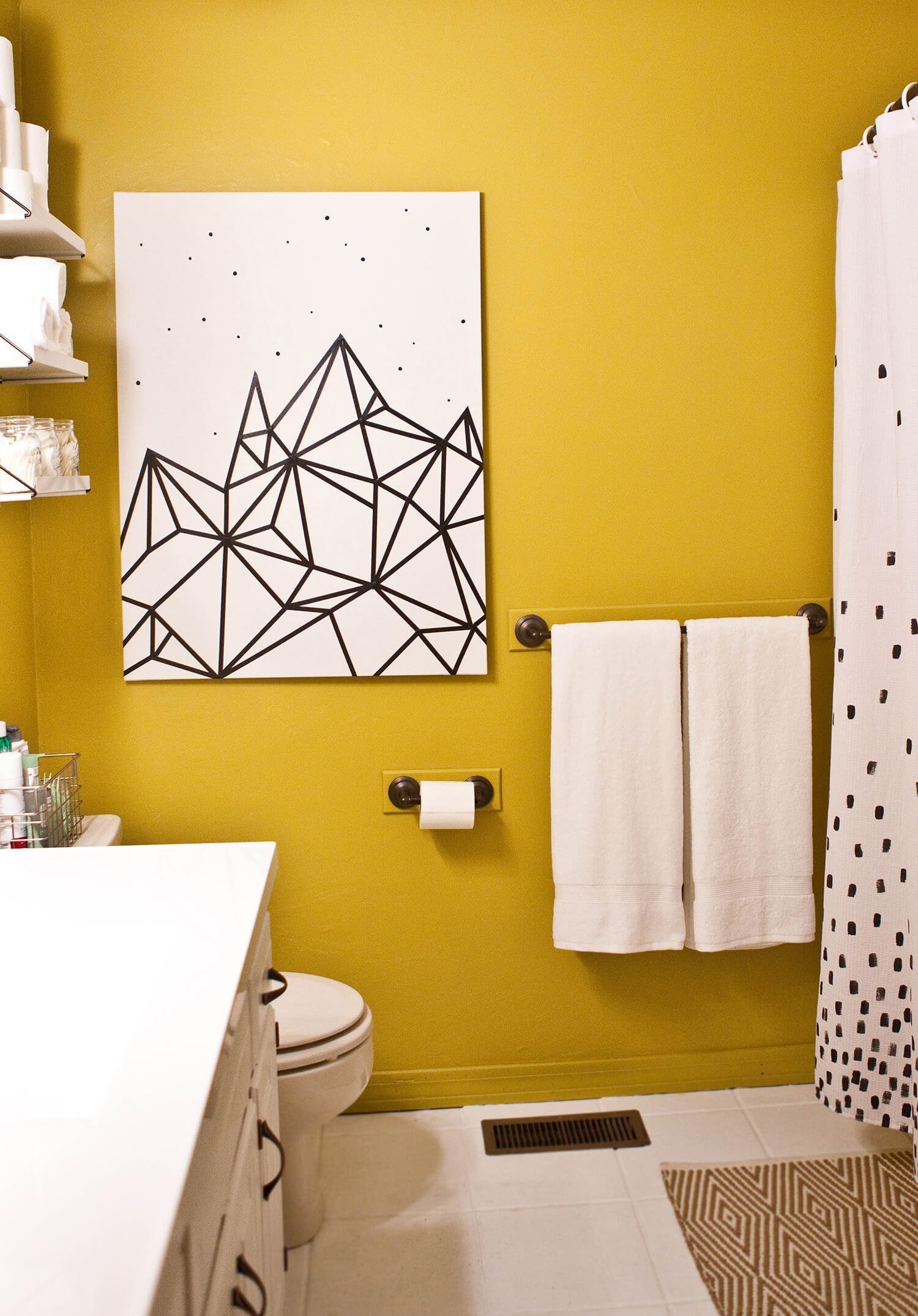 This piece combines two of the hottest trends in DIY wall decor right now. Washi tape and geometric shapes pair very nicely with one another. This piece is especially appealing because its clean lines give it the appearance of a professionally made print and also create a three-dimensional appearance.
34. Elegant Toilet Paper Roll Decoration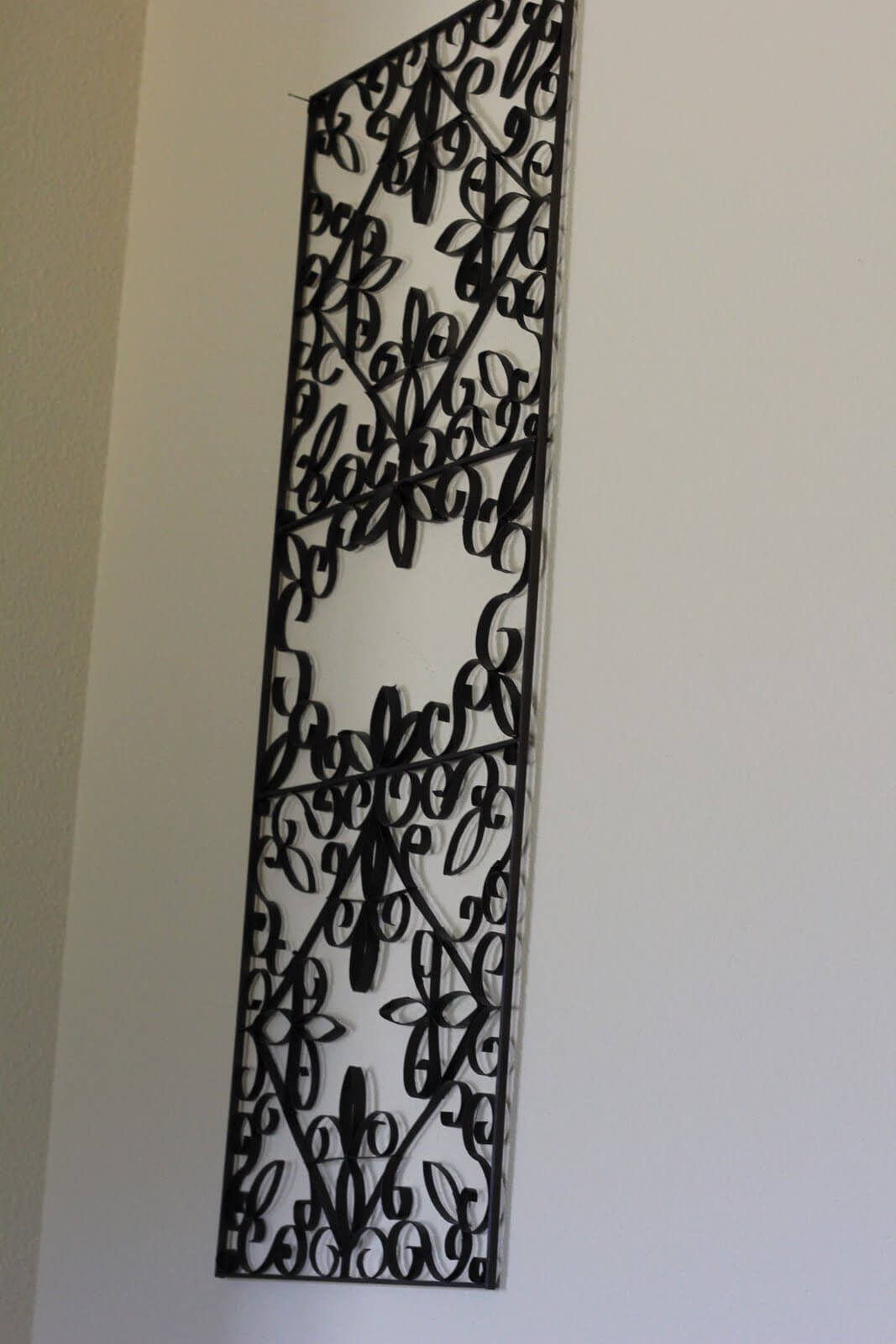 Would you believe that this next project is made out of toilet paper rolls? A process known a "paper quilling" inspired this project. Though it's made entirely of a paper product it takes on the appearance of rod iron. This is an elegant wall decor project that goes well with any interior style.
35. Faux Flower Wall Art Tutorial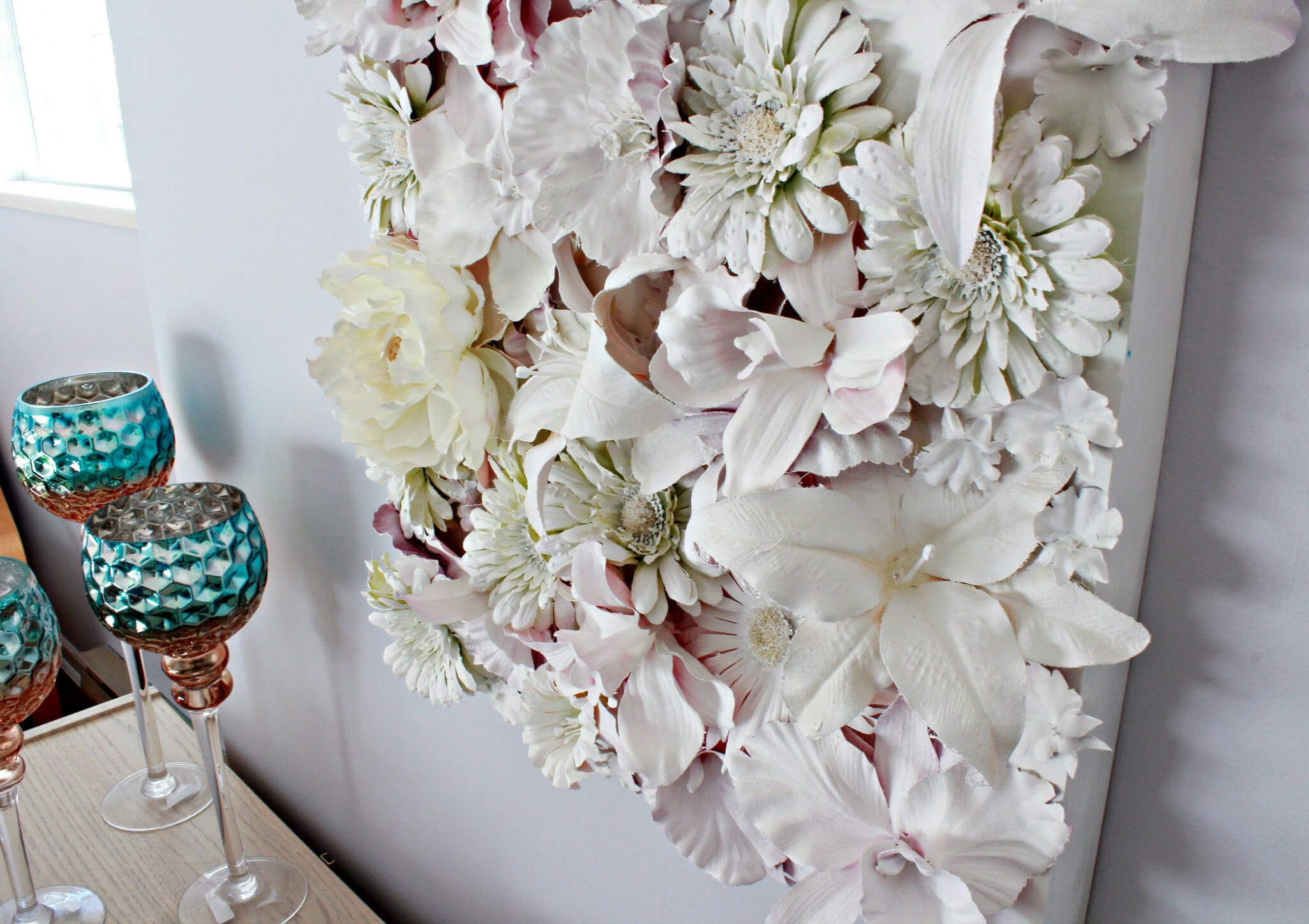 If you love bouquets but aren't always able to buy a fresh bunch of flowers for your home then you'll love this next project. This piece of wall art creates the opportunity to combine all of your favorite flowers into one stunning design. You can choose different colors to add variety or stick with a more uniform appearance.
36. DIY Cut Canvas Tree Art

This cut canvas tree is a beautiful addition to any wall. Even better, it goes well with all of your favorite decor styles. Even though it's an easy project to create, it still maintains a very professional appearance. If you want to add serenity to your home then this is a great project for you!