10 Secrets to Decorating Like a Parisian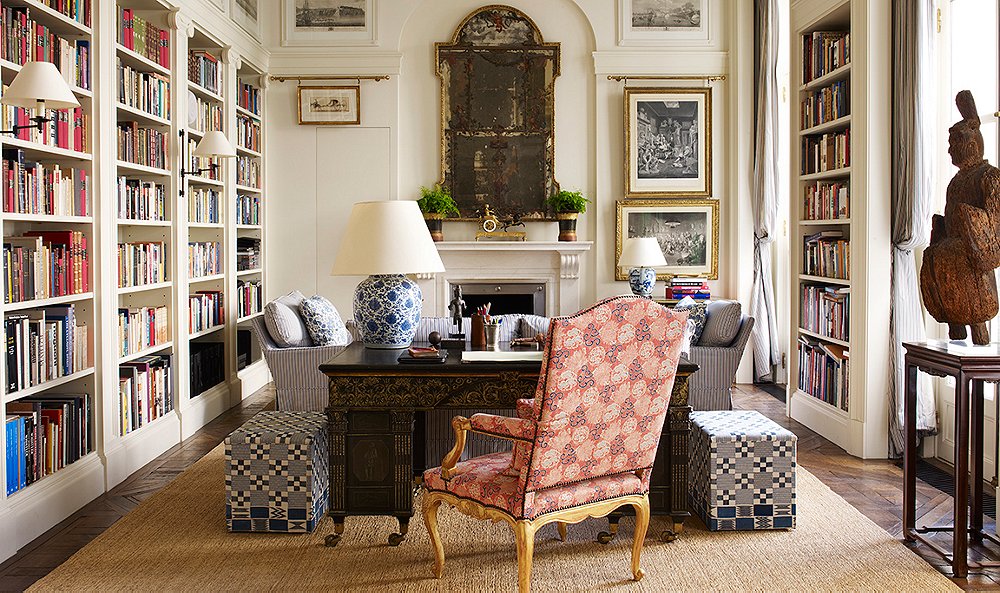 You know what they say… Paris is always a good idea. When it comes to impeccable interiors, the French certainly have it down. We've taken a look at some of our favorite chic Parisian rooms to discern exactly what sums up that sophisticated je ne sais quoi. From crystal chandeliers to dramatic drapery, here's our roadmap for decorating like Parisian.
Have a Cubist Moment
---
Cubism was pioneered in France by artists Pablo Picasso (a Spaniard who lived in Paris) and Georges Braque. A spot of the avant-garde art in your home is a subtle nod to the French, and you'll find it in many Parisian apartments and houses. However, one piece won't give you the Parisian chic look: It's the juxtaposition of the 20th-century works with antiques, imported furnishings, and other elements that drives this sophisticated style.
Celebrate Your Architecture
---
Okay, you may not live in a Haussmann-style apartment on Rue Saint Honoré with elaborate ceiling moldings, original restored herringbone hardwood floors, and other intricate period details, but whatever architectural assets your home is blessed with, showcase them. Choose a paint that complements your patterned ceramic tiled floors. Pick a fabulous chandelier that draws attention to your high ceilings. Embrace your home's beautiful bones.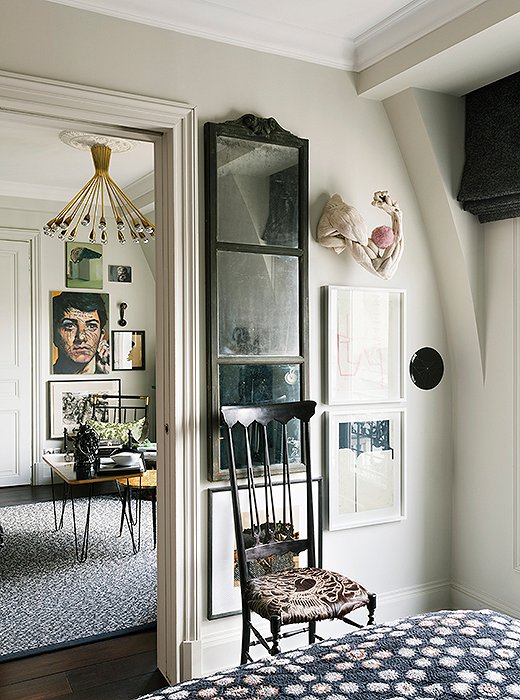 Let Things Age
---
The French have a certain appreciation for antiques, as well as for the beauty of aging. An antique mirror, speckled with telltale signs of age like oxidation and scratches, can bring a sense of history to a room that no shiny, happy new thing can. A vintage desk with water rings from coffee-fueled days has character and brings a human element to a space. Don't go all Grey Gardens with your decorating, but pause and appreciate history when you see it.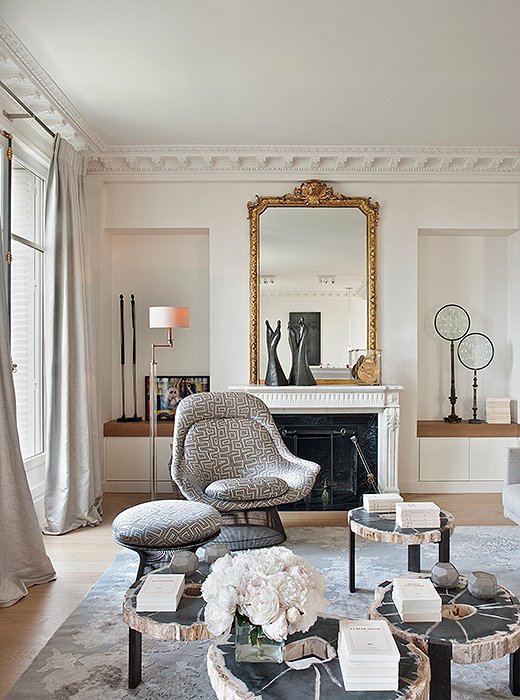 Go for the Gold
---
Glamour is a major pillar of Parisian interiors, and a touch of gold is often the key to achieving it. A gilded frame hanging over a fireplace, a pair of table legs finished in antiqued gold… the options are endless. Make sure you have the Midas touch in every room in the house.
Decorate with European Antiques
---
Antiques are a must-have for every sophisticated home, but they seem to be innate in Parisian interiors. However, French homes tend to showcase European antiques(naturally), as well as imported chinoiserie. Louis XVI, Louis XV, and Louis XIV chairs—similar with slight differences—are a hallmark of Parisian homes, not to mention a worthwhile investment you can use in any room in the house.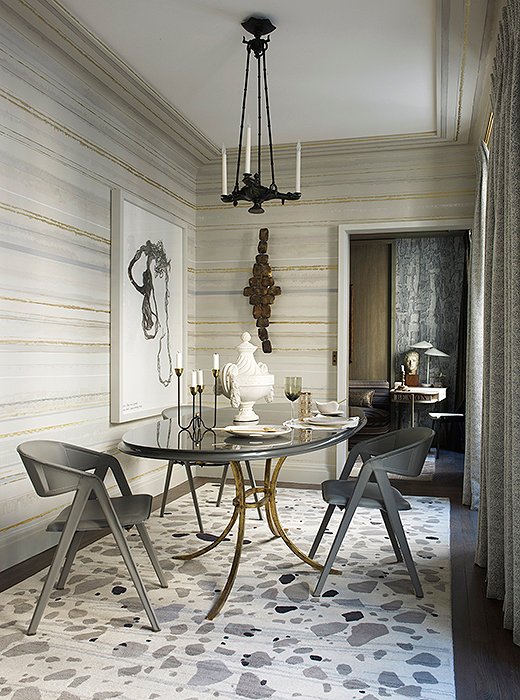 Create a Quiet Palette
---
Bold, bright, and garish colors have no place in a Parisian chic home—it's all about creating a subdued palette that lets shapely pieces and interesting patterns and finishes steal the show. Consider a monochrome scheme of layers of gray with touches of metallic, or paint your walls in a chalky green or warm linen hue. Add small moments of color via accents or art.
Bring in Fuss-Free Flowers
---
A bouquet of flowers is the perfect finishing touch for a Parisian chic room, but don't get too fussy with elaborate arrangements with a mix of colors and flowers. Just stock up on stems of a single type of flower, be it roses, hydrangea, or whatever you fancy, and you'll find strength in numbers.
Add a Touch of Crystal
---
Like Laguiole steak knives—the ultimate handmade French cutlery—crystal chandeliers are ubiquitous in Parisian homes. A natural place for one is a dining room, but you can also add a little sparkle in a small powder room, a children's bedroom, or in any room that needs a romance and glamour.
Make It Modernist
---
Antiques are common in Parisian interiors, but they're not the only game in town. Modernism is much heralded by the French, and modernist pieces juxtapose beautifully with pieces with age and history. Edgy, streamlined furniture is the perfect match for those period architectural details we mentioned earlier.
Hang Glorious Drapes
---
Every Parisian chic interior needs a captivatingly romantic element, and lush curtains that pillow and pool onto the floor are the perfect candidate. Silk is usually the material of choice, but linen can be equally beautiful with elegant pinch-pleat detailing. If you do want to go bold with color, this is the place to do it.